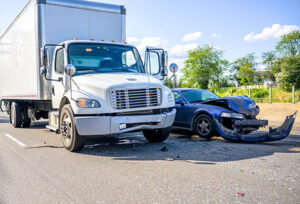 Semi Truck Collision
On August 20, 2021, a Florida jury returned a $1 billion verdict in a commercial semi truck collision lawsuit that resulted in the death of a teenager. A distracted semi-truck driver traveling 70 miles per hour slammed into the rear of the teenager's vehicle, who was at a complete stop in traffic because another distracted semi-truck driver had rolled his truck on the road ahead. The jury's billion-dollar verdict came after only 4 hours of deliberation. It included $900 million in punitive damages against the truck driver who rolled his semi because he was distracted by his cell phone, had exceeded the legal limit of driving hours, and did not have a commercial driver's license.
Commercial truck drivers are required to follow the Federal Motor Carrier Safety Regulations. The attorneys at Bloch & Chapleau have successfully litigated numerous commercial truck accident cases. We are familiar with the legal requirements trucking companies are required to follow. Were you or someone you know was injured in a trucking or other auto accident? Call attorneys Joe Bloch and Trent Ongert at 303-331-1700.  You will work directly with our experienced attorneys. Your case is our priority.