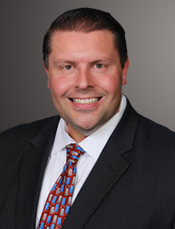 Trenton J. Ongert, Member. Admitted to the Colorado State Bar, U.S. District Court for the District of Colorado, and U.S. 10th Circuit Court of Appeals.
Education:
Northwestern University (B.S. 2002)
University of Denver Sturm College of Law (J.D. 2005)
Member:
Colorado Trial Lawyers Association, Colorado Bar Association (Past Trustee), and Denver Bar Association (Past Trustee, Past Chair of the Young Lawyers Division, Past President of the Community Action Network Committee)
Honors:
The National Trial Lawyers Top 100
Colorado Bar Associate Leadership Training Class of 2015
---
Mr. Ongert's extensive litigation practice includes ski injury law, auto, motorcycle, and trucking collisions, insurance law, including bad faith, slip and falls, dog bites, construction defect, real estate, and contract disputes. He has successfully argued high-profile, precedent-changing injury cases to the Colorado Court of Appeals, Colorado Supreme Court, and United States Tenth Circuit Court of Appeals.
Mr. Ongert is recognized by the Colorado legal community for his expertise and experience litigating ski injury cases. Since 2015, he has taught ski law seminars through the Colorado Continuing Legal Education (CLE) program to attorneys in the Colorado and Denver Bar Associations. He has also been interviewed for news media stories on numerous occasions regarding skier injuries, skier safety, and ski area accountability. In fact, Mr. Ongert and Joseph Bloch have proposed legislation to hold ski areas more accountable for safety and for the reporting of injuries on the mountain, which will protect the rights of all snow riders.
Mr. Ongert spent the first five years of his legal career as an insurance defense litigator. He evaluated injury cases for, and from the perspective of, the insurance carriers. As a result, Mr. Ongert gained an in-depth understanding of the procedures, ploys, and strategies regularly utilized by insurance companies. This insight provides Mr. Ongert a unique advantage when advocating for his clients against the insurance industry. In addition to his civil litigation practice, Mr. Ongert regularly assists clients with probate matters and estate planning. Mr. Ongert also enjoys his family law practice where he assists his clients in all domestic issues and proceedings.
Mr. Ongert joined the firm in 2010, and became a Partner of Bloch & Chapleau, Cates, Ongert in January 2013. In his free time, he loves skiing with his family, playing tennis, hiking, and rooting for his sons in their various athletic, and non-athletic, endeavors. He also enjoys playing the piano and listening to 90's West Coast rap.