Ski Accident Attorney Assisting Clients in Denver, Vail Valley, and throughout Eagle County and Summit County, Colorado
When you plan a weekend in Vail, Beaver Creek, Breckenridge, Arapahoe Basin, Keystone, or any other ski area in Colorado, you do not expect to get injured. But ski accidents and injuries occur much too often because of another party's careless or reckless behavior. Many ski and snowboard accidents happen when a skier or snowboarder is getting on or off the lift. The ski resort or another party may try to tell you that this is an inherent risk of the sport, but that may not be the case.
You may be entitled to financial compensation if you were hurt in a ski/snowboard accident in Colorado. An experienced Colorado ski accident attorney can help with your claim. We have extensive experience in handling ski and snowboard accidents, as well as other recreational injuries.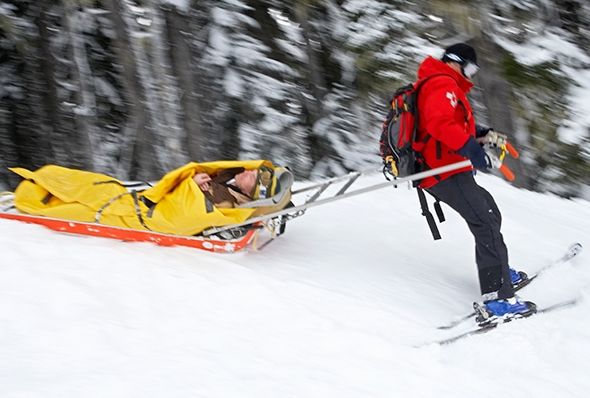 Getting the Facts About Vail Ski and Snowboard Accidents
How often to ski/snowboard accidents happen? The following are some facts from the National Ski Areas Association (NSAA):
41.5 people sustain fatal injuries on average each year from skiing and snowboarding accidents;
An average of 39 fatalities are skiers, and 12 are snowboarders;
Serious or catastrophic injuries (such as paralysis or a traumatic brain injury) occur every year at a rate of about 44.7; and
510 serious or catastrophic injuries occurred during the 2011-2012 ski season.
Assumption of the Risk for Skiers or Snowboarders in Colorado
One of the major questions in a ski or snowboard accident is whether the individual assumed the risk. In other words, in deciding to hit the slopes, does the skier or snowboarder simply assume the risk of an accident and injury? Often, there is no assumption of the risk. Sometimes other skiers or snowboarders behave negligently on the slopes, causing dangerous collisions. In other situations, the lift operator could make a mistake or the ski lift might be poorly maintained. Common types of ski accidents include but are not limited to:
Collisions caused by negligent skiers or snowboarders;
Negligent ski lift operation; and
Failure of the resort to properly maintain the ski lift or other equipment.
In most of these situations, the skier or snowboarder who sustained an injury was not assuming such a risk. Colorado's Ski Safety Act makes clear that operators as well as other skiers must adhere to certain duties. For example, if another skier fails to adhere to a posted safety sign and causes a collision, that skier may be liable for injuries. And when a ski lift operator makes a mistake, the injured party may be able to file a claim against the operator as well as against the resort for the failure to properly train and supervise lift operators.
Contact an Experienced Colorado Ski Accident Attorney
At Bloch & Chapleau, we regularly assist clients who have been injured in ski accidents at numerous Colorado resorts. Some of the major resorts are:
Arapahoe Basin
Aspen
Beaver Creek
Breckenridge
Buttermilk
Copper Mountain
Crested Butte
Durango Mountain Resort
Echo Mountain
Eldora
Hesperus Ski Area
Howelsen Hill
Kendall Mountain
Keystone
Loveland
Monarch
Powderhorn
Silverton
Ski Cooper
Snowmass
SolVista Basin
Steamboat
Sunlight
Telluride
Vail
Winter Park
Mary Jane
Wolf Creek
If you were injured in a collision or other accident at a ski resort, a Colorado ski accident attorney can assist you. Contact Bloch & Chapleau, LLC today to get started on your claim.