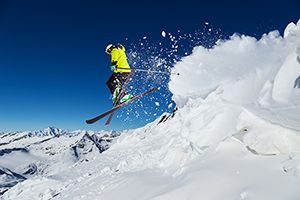 Proposed Legislative Changes and Preventative Measures to Improve Skier Safety and Lift Operation Awareness
Effective preventative measures could be implemented immediately and with very little cost. It is clear that Vail Resorts has failed to ensure its employees' compliance with its policies and procedures to protect the safety of its guests. The Resort has also consistently interfered with injured skiers' abilities to recover damages for their claims. Below are a few suggested legislative changes to improve skier safety and lift operation awareness:
       A. Skier Collisions
Install Video Cameras in High Collision Areas on Lift Towers and on All Chair Lifts
Vail Resorts and other ski areas could also easily record ski incidents in high-collision areas. They can do this by installing video cameras at all lifts and on towers. They could even provide reports to their guests indicating where these high-collision sites are. Further, ski resort policies and procedures require two lift attendants to stand outside of the loading areas to greet guests and to ensure guests safely load the lifts. Video cameras would ensure accountability and compliance with this important policy, which is frequently violated by the ski resorts.
Designate a Formal Investigator and Require a Detailed Reporting of All Incidents
As discussed, the Resort prohibits ski patrol from investigating the cause of any ski incident unless an employee was involved or the skier died. Vail Resorts not only fails to investigate injuries but actively hinders guests who have been injured by other skiers from discovering facts and pursuing their claims for injuries, creating the necessity to file a lawsuit.
A proposed plan could require a resort like Vail Resorts to train its Yellow Jacket, or other employees, who are responsible for investigating incidents involving employees or resulting in death, to investigate all incidents and make assessments of fault. These investigators should also be required to report critical information, such as the names of all parties, ski patroller names, witnesses, and why and how the incident occurred. In addition, all parties, including witnesses, should complete a written statement or give a signed statement. The investigators who report to the scene should carry a backpack or kit containing tools necessary to complete investigations. This should include items such as a checklist, camera, measuring tape, index cards and pens, statement forms, and trail maps. This would preserve the facts of each incident and allow the Resort to make necessary changes to improve safety.
As indicated, ski operators are only required to investigate a skier's death, an injuring involving a chairlift, or an injury caused by an employee. In addition, the Resort's Incident Report Cards that are completed by ski patrol when a ski injury occurs contain minimal information, often only indicating the names of the parties involved and no reasonable facts as to whether it was another skier's fault for the victim's injuries.
The Resort should be required to report all incidents so that skiers are truly able to assess the risks of skiing and make informed decisions. Further, Vail Resorts should be required to maintain detailed records for every incident. Keeping accurate and detailed records would also assist skiers in knowing where high-impact areas are. That way they may avoid them. Also, providing reasonable reports to victimized guests would allow the guests to have a reasonable opportunity to recover damages caused by others.
      B. Lift Operations
     1. Ensure Adequate Training and Staffing
Lift operators frequently fail to observe skiers as they load and unload the chairlifts. They even leave their designated workstations to warm up in ski "huts" located at the bases of the chairlifts. As a result, chairs often remain flipped up from the day before. As a result, skiers, like Mr. Varnish, are tragically injured or killed, when they attempt to load the chairlift.
Although lift operator attendants have an important role to protect guests, it is a low-level job. There are countless times when lift attendants are not properly supervised or trained. The Resort trains its lift operators to slow chairlifts, when a skier experiences difficulty with loading or unloading, rather than stopping them, to avoid putting extra strain on the equipment and causing delays and dissatisfaction with its other guests.
In fact, Vail Resorts requires ski operators to log all lift stops and answer questions at morning meetings. This includes why the lift was stopped and how the stop could have been prevented. The Resort also maintains specific standards of performance that require two lift attendants for each loading area to monitor all unloading passengers and make eye contact with each guest. Ski operators are also expected to flip the chair seats of the chairlifts at the end of the day. They do this to avoid the buildup of ice and snow on the seats and ensure that all of the guests have unloaded.
Increasing the training requirements for Vail Resorts' employees and installing video cameras would reduce the risk for human error and ensure accountability.
Require Stops
When skiers experience difficulty loading and unloading chairlifts, the Resort's employees
should be required to stop the lift, not slow it down. As stated, many ski incidents could have been prevented if an employee had simply stopped the lift.
Require All Parties to be Provided with Free Access to Records
In addition to the Resort's failure to adequately investigate and report all ski incidents, it
refuses to provide injured skiers with free access to its records. In fact, the Resort even redacts critical information from its Incident Report Cards. This includes the names of its employees involved in the incident. As a result, injured skiers are forced to file a lawsuit for the sole purpose of subpoenaing Vail Resorts' records to determine the identity of the individual who injured them. This results in unnecessary costs and litigation for the Resort's guests to simply investigate serious injuries caused on its properties.
As stated, Vail Resorts is under a legal and ethical obligation not to interfere with the administration of justice and to further the State's interest to protect skiers' abilities to recover damages for their claims. Accordingly, there should be further regulations that require VR to provide skiers with free access to their records.
II. Conclusion
Now is time for these common-sense legislative changes to be enacted to protect skiers in Colorado. The current legal climate does not reflect the legislative intent of the General Assembly to protect skiers and their ability to recover damages for their claims, and VR's blanket liability from its exculpatory clauses violates public policy. The proposed legislative changes are simple and would result in great benefit to the public.
There is really no other industry in this state that is permitted to operate with as little oversight and accountability as Colorado's ski resorts while being afforded virtually blanket immunity. The ski resorts have no obligation, and little incentive, to make common-sense and easy-to-implement improvements to increase guest safety. They are shielded by their exculpatory clauses and have complete control over their own activity and information. It is true that the ski industry substantially boosts Colorado's tourism and economy. However, the ski resorts must put their guests' safety first, and so should the Colorado General Assembly.
Please do not hesitate to contact us if you have any questions or want to discuss this legislative idea further! Phone: 303-331-1700. Email: at jbloch@blochchapleau.com and tongert@blochchapleau.com